Some of you long time readers of The Blue Bookcase might remember Julie, who reviewed for us back when we were still just a baby-blog in the spring of 2010. What you may not know is that Julie has a personal blog where she writes about her musings on life. This blog happens to be one of my all time favorite blogs to read because Julie is an
incredible
writer. Her writing has everything I love - strong voice, straightforward wording (not pretentious at all), so many great sensory details and general awesomeness. If Julie ever publishes a book I would buy myself a copy and a copy for all of my friends.
Today is your lucky day, my friends. Here is a taste of Julie's writing:
Post by Julie
I used to read a lot.
Golly, I used to read a lot. I couldn't be bothered to show up to the dinner table unless I had at least three books under my arm--the one I was halfway through, the other one I was halfway through, and the next one in case those two weren't enough in the eleven minutes it took to hold my nose and gulp down the steamed squash pinched from the watery vegetable dish that I had to finish before I could leave the table. Sometimes the eleven minutes would pass and I'd sit there for an hour or more with one edge of my barstool bumped up against the counter and the squash or salad or whatever it was growing slimy and cold on my plate.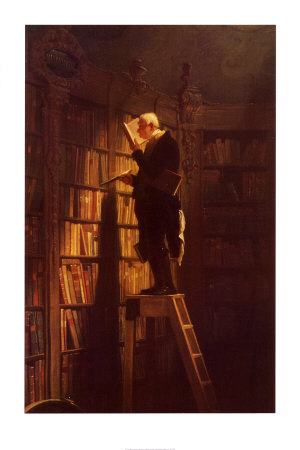 Reading was the background, the wallpaper of everything I did growing up. I pined for books in the car at night when it was dark and I wasn't allowed to turn my reading light on for my parents' fear of lower quality night driving vision. I read them at intermission in plays. I spent entire vacations in a house on the beach filled with rambunctious cousins reading paperbacks I had brought, and then reading all the paperbacks they had brought, too. At the end of A Wrinkle In Time, I cried for days. When I came upon A Girl of the Limberlost in sixth grade, I checked it out weekly until I had practically memorized it. I finished Les Miserables, unabridged, 1800 pages, in the middle of a peer tutoring class in eighth grade and slumped over with the weight of it, both front and back covers of the cheap Penguin copy having been replaced with packing tape. I bought Harry Potter 7 at midnight, barefoot, in a Wal-Mart, and was still awake, nauseated with sleepiness, by 4:30 AM, playing the just-one-more-sentence game. I took A Tree Grows In Brooklyn and East of Eden in as my own, MY books, respectively, and hoarded three or four copies of both. When I'd meet a person, a new person, anywhere--rehearsal for a play, a new class, work, anywhere--I would automatically relate them to somebody I knew in a book. Contrary to popular belief, I was incredibly and still am incredibly shy. I would much rather watch you than talk to you, most of the time. No offense. Really I'd rather just read about you. I still really, really, really, really love you. I just know much better how to interpret dialogue than to participate in it.
To read the rest of this post, check out
Julie's blog.
Thanks, Julie! We love you!
(Some of Julie's reviews:
Marie Antoinette
,
Paradise
,
The Dead
,
Fugitive Pieces
,
Writing Down the Bones
,
Top 10 Books on a Desert Island
)