Reviewed by Christine-Chioma
Published
: 2011
It's about
: After her father commits suicide because of impeding financial ruin, sixteen-year old Tamara and her mother move to the country to live with her controlling aunt and passive uncle. At first Tamara is bored and resentful, but then she discovers a mysterious book which tells her the events that will occur the next day. Tamara soon discovers many secrets as she tries to fix the future.
I thought
: Based on the plot and the fact that the author also wrote
P.S. I Love You
I thought the book was going to be fluffy and so I did not have high expectations. However, the writing was really sharp and the storyline really captured my attention. I love that it takes place in Ireland, I liked the quirky characters and eerie places. Ahern is good at creating suspense and excitement. The novel has a lovely whimsical tone. Tamara's voice was very authentic and honest-- I appreciated her character development. However, I was disappointed by the ending. I found the "twist" to be melodramatic and a bit like a soap opera. It might be because I was trying to figure out the mystery myself and I liked my version of things better than what the author created. Nevertheless, the ending did not match the quality of the rest of the book.
Verdict: Stick it on the shelf or Rubbish Bin?
Stick it on the shelf! Although I did not really like the ending, I feel like the rest of the book made up for it.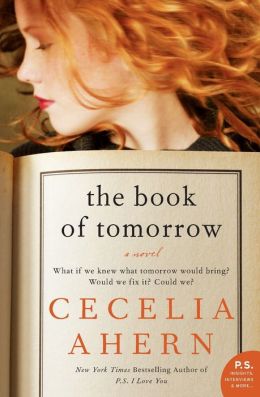 Reading Recommendations
: Don't expect a literary masterpiece, but it was a fun well-written novel.
Warnings
: Some f-words and a sex scene but it wasn't graphic.
Favorite excerpts
:
"If my parents had flowering buds, then maybe, just maybe they could have avoided all that. But there were no other possibilities, no other ways of doing things for them. They considered themselves practical people, but there was no practical solution for the situation. Only faith and hope and some sort of belief could have seen my father through it. But he didn't have any of that, and so when he did what he did, he effectively pulled us all into the grave with him."
"It was to Barbara that I suggested Mum should visit the doctor. Barabra just paratonizingly sat me down in her kitchen and told me that Mum was doing what is called "grieving." At sixteen years old, you can imagine how delightful it was to learn that word for the first time."
"Nobody who says as little as he does is as simple as you'd think. It takes a lot to not say a lot, because when you're not talking, you're thinking and he thinks a lot. My mum and dad talked all the time. Talkers don't think much; their words drown out any possibility of hearing their subconscious..."
"The ruin?" Rosaleen asked. "The castle," I responded, and immediately felt defensive on its behalf. If we were going to start name calling we may as well start with Mum. She was clearly a broken woman yet we weren't referring to her as a ruin. She was still a woman. The castle was not as it once had been, but it was still a castle. My conviction settled, I knew from then on I was never going to call it a ruin."
"I have never seen a woman clean with such vigor, with such purpose, as if her life depended on it. Rosaleen rolled up her sleeves and sweated as she scrubbed, biceps and triceps astonishingly well formed, wiping away every trace of life that ever existed in the place. So I sat watching her in fascination, and I admit with a hint of patronizing pity too, at the unnecessary act of such intense polishing and cleaning."
What I'm reading next
:
Crossing to Safety
by Wallace Stegner
*I received a free copy of this book in exchange for an honest review